CTGViewerLite documentation
The CTGViewerLite can be used to display cardiotocography (CTG) records. for browsing of cardiotographic records of the CTU-UHB cardiotographic database. Its purpose is to view a fetal heart rate and uterine contractions together with a clinical information.
Features:
display CTG records in physionet (dat), matlab, and csv format
view CTG together with clinical information (biochemical markes, length of I. and II. stage of labour etc)
display CTG in European (1 cm/min, 20 bpm/cm) and US (3cm/min., 30 bpm/cm) formats.
convert physionet (dat) format to csv
download complete CTU-UHB database from physionet
create simple annotations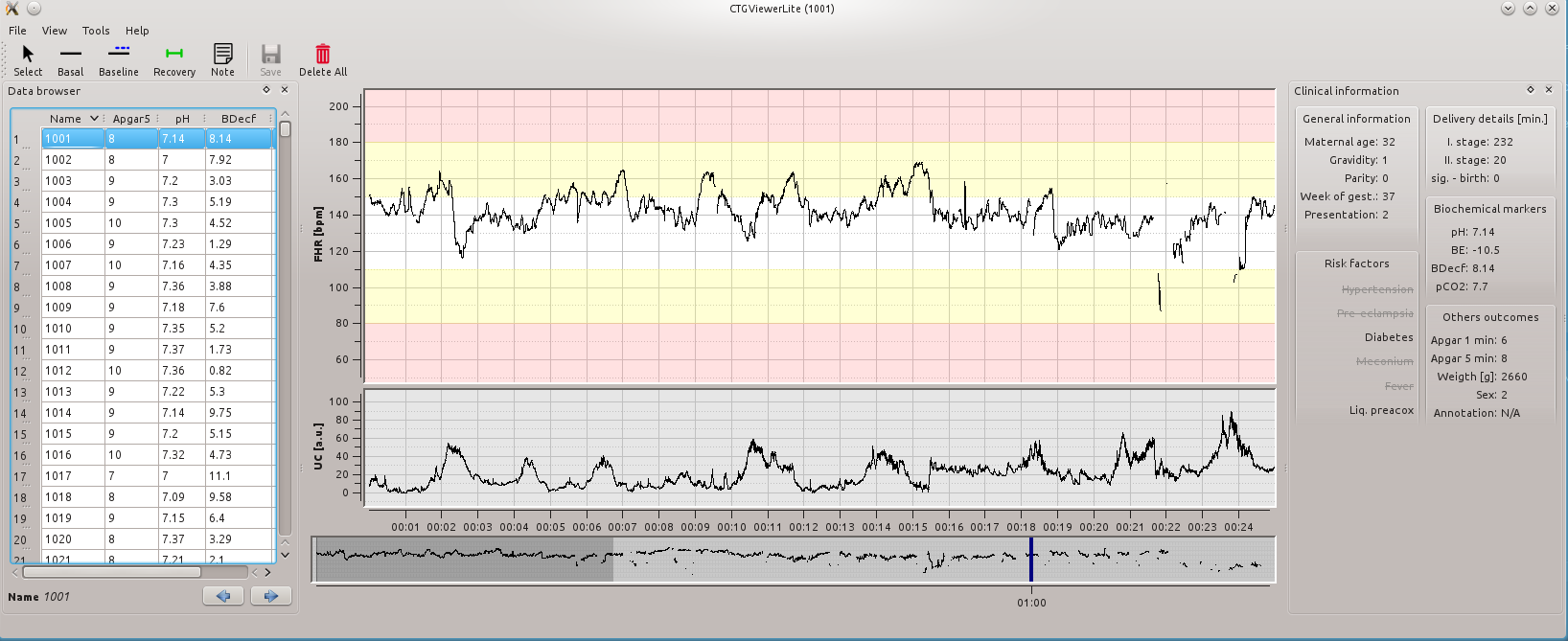 The CTGViewerLite was developed by Jiri Spilka and Vaclav Chudacek at Czech Technical University
The application is maintained at CIIRC
Note: The CTGViewerLite was developed for research purposes. The software is provided with no warranty. The CTGViewerLite is distributed under GNU General Public License version 3.
Contents:
Changelog:
2016-04-13 - added annotations - ellipse, refactoring
2016-01-14 - added annotations (basal, baseline, etc.)
2016-01-06 - browse records in one folder
2016-01-01 - EU and US paper size, move in record using mouse wheel button and arrows
2014-04-01 - two bug fixes, one with settings ini and the other with database downloading
2014-03-30 - tool for batch download of the CTU-UHB CTG database
2014-03-29 - easy installation for Windows
2014-03-12 - fixed bug with reading physionet header
Indices and tables